Exquisite Craftsmanship - JARDEON Automatic Cutting Hexagon Acoustic Panels
❤️FOCUS: 100% polyester, hexagon 3D shield carving exclusive design, Diameter 14" x 12" x 0.4"( length of a side of the regular hexagon). High density sound panels has two sides, and the logo surface is easier to stick to the wall.Beveled edge, 10x better than acoustic foam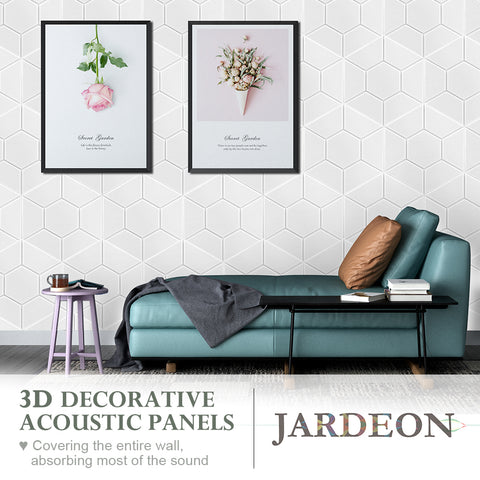 ❤️SGS STRICT TEST:In the frequency of 2000 Hz ~ 5000 Hz, average absorption coefficient: 0.8, NRC: 0.9 (SGS NO. XMIN190100254CCM), Properly installing a sufficient number of panels in one space can significantly reduce noise, eliminate sound impurities and improve speech intelligibility, each panel is SGS strict environmental protection test, Formaldehyde free: E0 Class (SGS NO. SHAEC1709892601); Fire-safe: B1 Class (SGS NO. XMIN190100052CCM ) No Toxic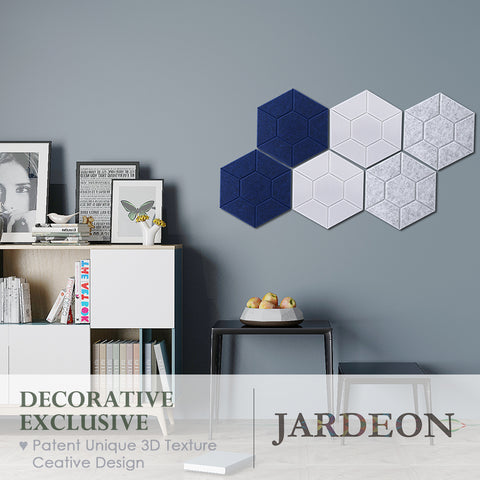 ❤️WIDELY APPLICABLE: Professional acoustic control, sound dampening, acoustic treatments, noise reduction - Used for professional studios, school, recording studio, home improvement, stage, rehearsal rooms, concert halls, podcasting, churches, home theaters, vocal booths, home studios, offices, man caves, dog kennels, utility closets,etc

❤️EASY TO INSTALL:

Our sound absorbing panel with strong sticky self-adhesive, was tested by 80 Oz.weight load bearing. So please do not worry about the sound proof foam panels falling off. Only takes about 10 mins to super easily install them on the wall, doors and ceiling. PLS NOTE doesn't move again after gluing.

❤️ JARDEON brand box / Pack of 6, covers 6 sq. ft. (Covers 1 sq. ft. per sheet). If you are not satisfied with our products, we offer 100% refunds, no questions asked. Click ADD TO CART above to get yours now!